Apple's WWDC brought a whole slew of announcements and news. It's great to see Apple is going full on with ML and AR and more importantly, they bring them to IOS developers as ARKit and Core ML. Both AR demos were very impressive from a technical point of view, but not very unconvincing with regard how we can use it in everyday life. I can't wait to see what the market is going to do with it.
My bike ride in AR. (Unity + ARKit + Mapbox + Strava) pic.twitter.com/g2uVwVlM3h

— Adam Debreczeni (@heyadam) June 7, 2017
Apple also introduced the HomePod. It's is a pricey speaker ($349) with sound like a good old Bose sound system. I am not sure how my audiophile heart feels about that. Also I wonder if you can actually see Siri light up when you wake it up since it's only visible from the top.
Apple is putting more effort into Siri which is good. I've never got the hang of Siri because it is too free form in its execution. Alexa proves much more useful because it is clear about what it understands and what not. I only use Siri on the Apple TV to find a movie and it's pretty good at that but the push a button interface is not very inviting to use it for anything else.
Amazon Video is finally coming this fall to Apple TV. Apparently Apple and Amazon buried the hatchet. I wonder if we will see Apple's products come back to the Amazon store as well?
Apple put a lot of emphasis on taking the heavy graphics users more seriously with their improved hardware products and the new iMac Pro. Also they've updated their Macbook line with new processors. It's clear that Apple took the criticism seriously and wants to do better on this front.
Also the IOS App Store gets a much needed revamp after years of neglect. The biggest issue with the App Store is discovery and I am not sure this is addressed by turning the first tab into a "daily" magazine. I would be much more interested in personalized search and announcements based on my apps, interests and location, but let's see.
The iPad got a lot of love in IOS11 and gets a lot of new features to make it more of a productivity machine. It finally gets a file manager. Yup, that happened! It also get drag and drop and more versatile multitasking capabilities with floating windows. I am still not sure about the pen though.
The iPad takes a big step toward being the computer for everyone
iMac Pro, the most powerful Mac ever, arrives this December
Apple introduces a completely redesigned App Store
Apple updates MacBook line with new Intel processors
OS
What Really Happened with Vista
Is there a broad lesson to draw from this story?

One is so fundamental as to be trite. Execution matters. There is no innovation without execution.
It's an opinion piece even though the title pretends otherwise, but it does give some good insight into Microsoft's organization with regard to software development. More interestingly, I found Microsoft's stance on middleware. In their mind, middleware is bad because it allows customers to switch platforms. It makes sense from Microsoft's perceptive, but it's a bit of an old-fashioned point of view. He's right that most value is created in software, but even with portable applications there's no reason for users to switch if they're happy with the platform. Android is particularly vulnerable for this but it didn't stop it to become the dominant mobile OS. Android even suffers from the same issues as Windows largely related to various OEMs implementations of Android on their hardware (which is outside the control of both Google and Microsoft). It's a strength and a curse at the same time.
Messaging
Apple's Business Chat will bring customer service to the iMessage platform
iOS 11 lets you send and receive money via iMessage with Apple Pay
Apple's keeps pushing iMessage forward and is introducing Business Chat and iMessage person to person payments. It's interesting to see what the adoption will be of both because they're exclusively tied to the Apple ecosystem. There are limits to how far a closed ecosystem can extend. These two new services are pushing against those limits. If they succeed, they'll make Apple's ecosystem a lot stronger, if they don't we know where that limit is. Apple has a lot at stake here.
Internet access
The U.S. ranks 28th in the world in mobile internet speeds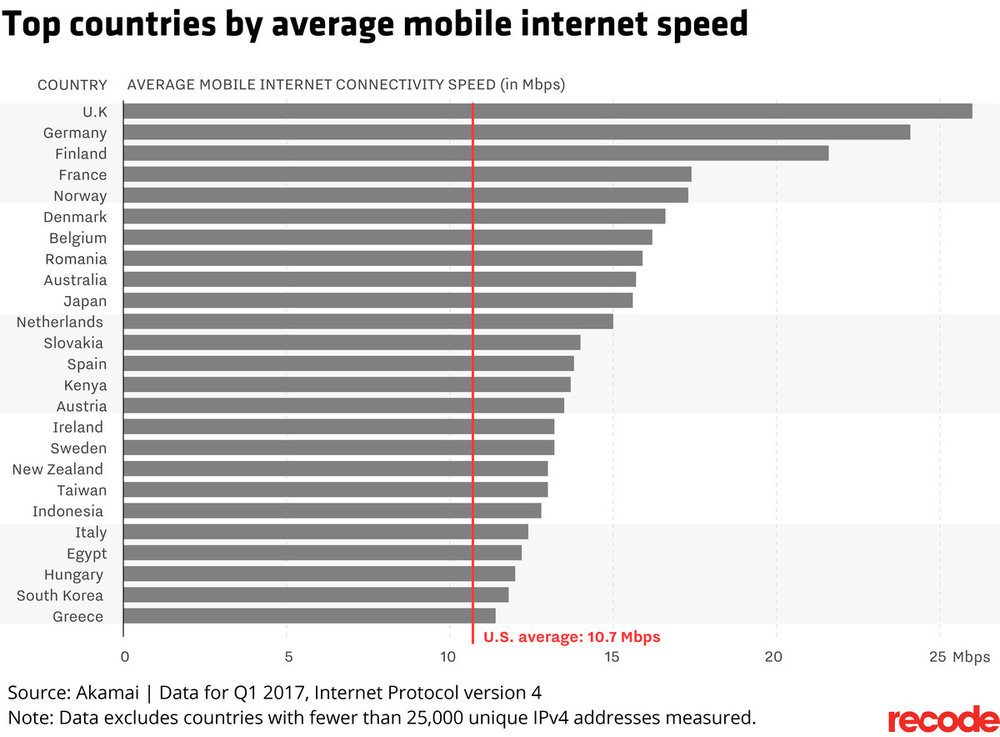 No surprise. Mobile internet speeds are not great in the US especially considering how much an average subscription costs.
UI
'I'm Not Sure I Understand'—How Apple's Siri Lost Her Mojo
Highly critical article on Siri by WSJ. I've given up on Siri a long time ago, it's actually disabled on my iPhone and iPad. Mostly because it was not useful. On the other hand, I use Alexa every day multiple times. The problem is the smart phone use case is not strong. I am still quicker and more accurate using my fingers than Siri. Alexa solves simple problems like switching on and off lights, adjusting the thermostat, informing me about the weather and reordering stuff from Amazon. It's always in the same place and always listens.
I only use Siri occasionally on my Apple TV. It's faster to say a name of a TV show or movie than using the awkward on screen keyboard. But the UI is still terrible. I need to pick up the remote and push button. It's not seamless.
The problem is also the way Apple likes to control the integration of external devices into their HomeKit. HomeKit lives on my phone but how can I share access with other family members or guests? Just read this article on howtogeek to learn more about it. It's not intuitive and unfortunately I've seen nothing planned for IOS11 to improve this.
If I compare that to Alexa where I can set it up and anyone with physical access to my Echo can use it. Everything is in the cloud and if I add another Echo to my account will automatically have the same capabilities. It's unclear how HomePod is going to solve this. Nothing got mentioned with regard to HomeKit and the HomePod. With the A8 processor inside, it does have enough processing power to run apps but nothing in the presentation was mentioned on how Siri can do more than just play music and answer generic questions.
We're basically in the pre-iPhone, Palm Pilot era of voice assistants. Amazon's lead seems pretty fragile IMO. https://t.co/KKEBQPX5uL

— Khoi Vinh (@khoi) June 4, 2017