News apps are making a comeback. More young Americans are paying for news. 2017 is weird.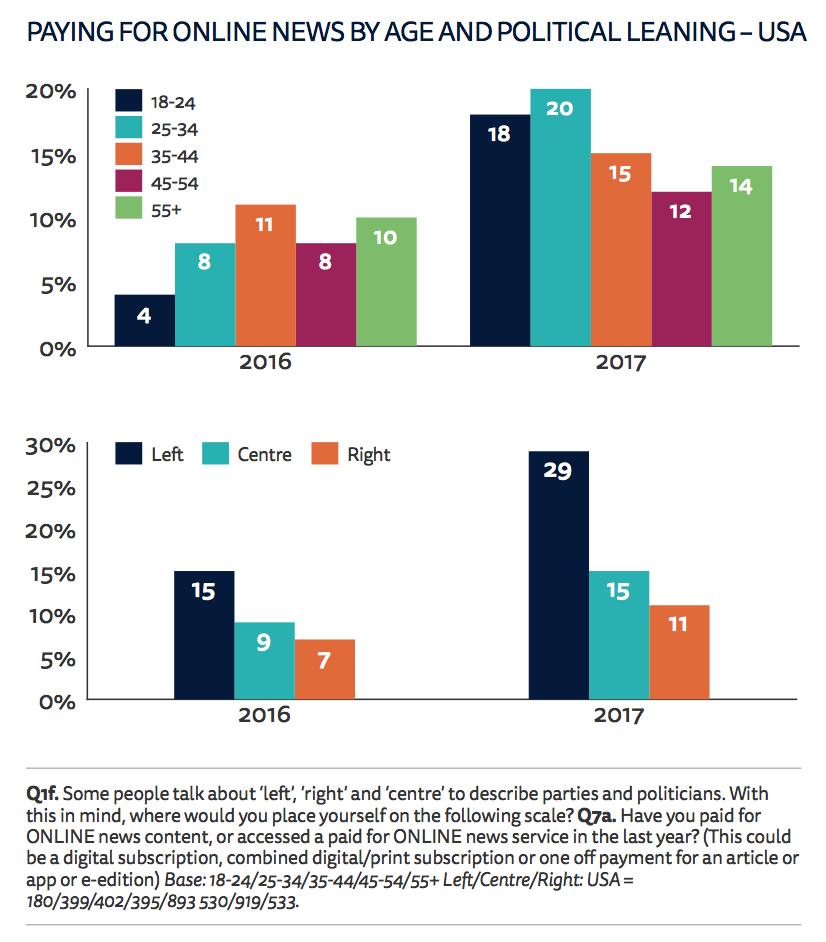 "The Reuters Institute's annual report on digital news contains some surprises.". The push back from sites on ad blocking seems to have the desired effect. 58% of people turn off ad blocking because they could not access the site. I expect more sites to go this route especially now that Google is building ad blocking in their next generation browser. Alexa is more popular than the Apple Watch for consuming news. No suprise there. What is more interesting is that news apps are back and consuming news from social networks is down. Also all demographics prefer news in the form of text and not video. Also more people are paying for online news. It seems the news industry finally has found a way to monetize beyond ads.
Autonomous Vehicles
Apple Is Working With Hertz to Manage Its Self-Driving Car Fleet
Alphabet Inks Deal for Avis to Manage Self-Driving Car Fleet
Both Hertz and Avis super eager to jump on the autonomous vehicle train which is not surprising. This is where everything comes together; who is going sell me my autonomous transportation subscription: Uber, Hertz, Avis, Lyft? Uber knows a lot about bringing people from A to B, but knows nothing about fleet management. Hertz knows about fleet management but nothing about bring people from A to B (except renting them a vehicle). Autonomous vehicles is going to be the battle of century, there are so many large stakeholders in this industry from car manufacturers to tech companies to financial companies to rental companies.
Online Music & Video & News
Facebook Is Going Hollywood, Seeking Scripted TV Programming
Like Snap, Facebook is starting to invest in original content. Are we unbundling video streaming now?
Hardware
Amazon Echo Show review: Seeing is believing
The Echo Show from Amazon is coming out this week. I pre-ordered one and am super curious what the screen is going to add to the Alexa experience. I have great expectations of the new skills using the camera. "Alexa, please read this barcode and order it".
Internet Access
Sprint Enters Into Exclusive Talks With Charter, Comcast On Wireless Deal
Perhaps this is just strategy to improve their position in the negotiations with T-Mobile, but this has been on the horizon for a while. It's not inconceivable that all consumer internet access will become wireless sometime in the future and that'll make cable companies irrelevant.
The New Sticker Shock: Plunging Cellphone Bills
Consumer-price index for wireless phone service dropped 13% YoY in April, according to US Labor Department, the largest decline in the history of the category. T-Mobile has clearly shaken up the market and it's effect is starting to show now. There's a lot of inertia with customers in the telecom market, not the least because of barriers put up by providers to discourage switching.
AI / Machine Learning
I ask 100 information questions to four digital assistants. All of them fail at least half.
I'm a big fan of voice interfaces and I can remember playing with Dragon(?) dictate back in the late 90s. I think they're the most human but my experience with Alexa also learned that we're still ways away from having a real digital assistant. Though I do find Alexa useful and would buy it again, I'm hesitant to recommend it. We are in the Commodore 64 era of voice interfaces and there's still much work todo to make speech recognition really work well.
The dawn of the augmented writing era
The view point of this post is really interesting and not everyone might realize this in relation to AI / Machine Learning, but it doesn't have to replace human labor but it can improve human labor. The view point in this point is that the logistics around writing has improved over the years but no solution actually made the writing better (except maybe grammar / spell checkers but you could argue that this is still logistics). Machine learning / AI could perhaps lead to augmented writing which helps the writer to assess the the reaction and reception of the writing by the intended audience.
To put it differently, Instagram for instance might just look at your followers and changes your image you upload automatically to make it more attractive to your followers.
AR / VR
Virtual measuring tape made with ARKit
🔥 BOOM 🔥 And just like that we have #ARKit measurement app number 2 https://t.co/cjfQMpHmx0 → by @laanlabs 🍒 pic.twitter.com/U8QKFjiMXs

— Made With ARKit (@madewithARKit) June 25, 2017
I couldn't help being impressed by this demo. It's super accurate, very impressive.
Antitrust
Antitrust: Commission fines Google €2.42 billion for abusing dominance as search engine by giving illegal advantage to own comparison shopping service
I am always ambivalent about these decisions from EU. First, why not warn Google before fining and have a conversation.with them Second, shopping comparison sites are mostly terrible and spammy places you don't want to show to users anyway. Third, it's very normal behavior for a company to use their position of strength to push other products. I am confident that on a technical & legal level the EU commission is right, but in real life I wonder how this is going to make the EU a better place. EU is the place where you click "I accept your cookies" the first time on every website.