PEW Research issued a report on social media use by Americans. Here are some of the highlights: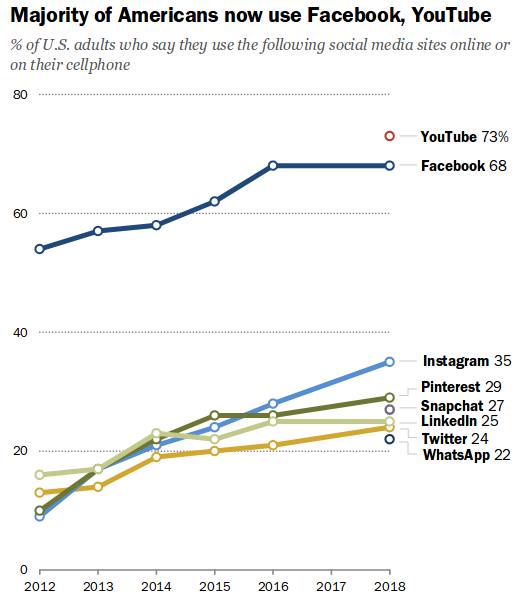 Facebook and YouTube dominate this landscape, as notable majorities of U.S. adults use each of these sites. At the same time, younger Americans (especially those ages 18 to 24) stand out for embracing a variety of platforms and using them frequently. Some 78% of 18- to 24-year-olds use Snapchat, and a sizeable majority of these users (71%) visit the platform multiple times per day. Similarly, 71% of Americans in this age group now use Instagram and close to half (45%) are Twitter users.
Despite using them for a wide range of reasons, just 3% of social media users indicate that they have a lot of trust in the information they find on these sites. And relatively few have confidence in these platforms to keep their personal information safe from bad actors.
Nothing really new under the sun this report, usage is same for the major players and up for the runner ups. They didn't research anything about usage in this report, but I bet the usage has changed significantly over the last few years. I think people create less and more passively consume. In line with we stopped referring to them as social networks but social media – something to passively consume, created by a select group of actors.