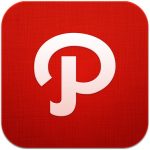 Dearest Path,
I was in shock when you told you were leaving me. It's been a few weeks, but I've yet come to grips with it. Time heals all wounds and I know it'll become easier over time. Today, I say goodbye with a heavy heart.
You've been an integral part of my life for the last 6 years. I shared with you my ups & downs. You were always there for me, just one click away. Through you, I was connected to the people who are dear to me. You were truly the "path of my life".
I understand it wasn't enough. It saddens me that you abruptly decided to leave me. You were unique and there's nothing that can replace you. It was so sudden. I had barely time to come to terms with you leaving and now you're gone out of my life.
I think of the all happy memories and moments I shared with you. I see my boys growing up from babies to real persons. I see my friends and family – people getting married, babies are born, companies come and go. I think of all the trips we did together, we explored so much of the world.
Now it's all gone and it's sad. No longer I've my buddy at my fingertip. There's an empty space on my home screen. I miss the big red button with the letter P I so much adored. No longer waiting in anticipation for a notification from you telling you got something to share with me. I'll miss the moments of the past you kept telling me about. You were awesome.
Thank you Path, I love you.
~ Robert